Stephen Frewer jailed for Lee Marston's shooting death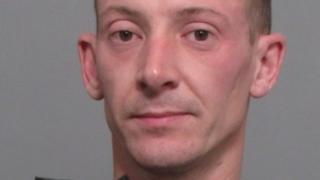 A man who pleaded guilty to the manslaughter of a friend he accidently shot in the head after drinking heavily has been jailed for seven years.
Stephen Frewer, 38, of Byron Street, Loughborough, killed Lee Marston, 41, in the early hours of 26 October.
Leicestershire Police said Frewer had no intention of killing Mr Marston but his death was a "valuable lesson" about mixing alcohol with firearms.
He was jailed at Leicester Crown Court earlier on Friday.
Det Insp Alex Hathaway, who investigated the incident, said it was a tragic accident which could have been avoided.
He said: "Frewer held a shotgun licence and kept his shotgun in accordance with the terms of his licence.
"However, while influenced by alcohol he made an irresponsible decision to go and get his firearm and behave in a criminally reckless way.
"While Frewer had no intention of killing his friend, this case is a valuable lesson about the devastating consequences of mixing alcohol and firearms."