Bird 'chipped free' from frozen lake by firefighters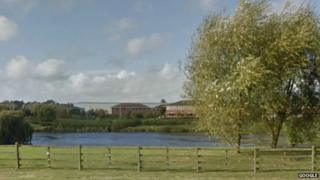 A bird that became stuck in a lake when the water froze around its feet is recovering after being rescued by firefighters.
The black-headed gull was unable to fly off after getting trapped about 20ft (6m) from the bank of the lake in Leicestershire.
Firefighters chipped him free from the icy water at Grove Park, Enderby, after being called by the RSPCA at about 16:50 GMT on Tuesday.
He was taken to a vet to warm up.
'Stuck fast'
The gull was then taken to a nearby wildlife centre for further care before he will be released into the wild.
Firefighters used a rescue sled, which is like an inflatable raft, to reach the gull.
The RSPCA said in a statement: "He was about 20ft out on the lake and was stuck fast.
"Thankfully the the fire service came out to assist our officers and using an inflatable raft managed to reach the gull and chip him free from the ice."