Rutland Christmas Day crash victim had been due to marry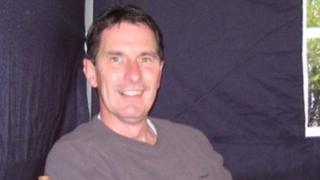 A funeral for a man killed in a crash on Christmas Day will be held three days before he had been due to marry.
Mark Price, 51, and Lynda Wade, 48, died when their cars collided on the A606 in Rutland.
Mr Price had been driving home to Rothley, Leicestershire, after watching his daughter open her presents at his ex-wife's home when the crash happened.
He was due to get married on 17 January. His funeral will be held in Rothley on 14 January.
Fiancée Debbie Smyth said Mark, who was head of catering at Loughborough University, was "truly unique".
Ms Smyth, 52, said Mark had raised hundreds of pounds for charities, including Leicester hospice charity LOROS and the air ambulance.
"Mark was one of those rare people who was liked by everyone he met," she said.
"He was witty, sincere, compassionate and totally selfless."
The pair had moved into their new home in Town Green Street, Rothley, in mid-December.
'Overwhelming grief'
Previously, Mr Price had been a senior chef at the Michelin Starred kitchens at Mallory Court in Warwickshire and had worked for Mars Catering in Melton Mowbray, the Middle East and Russia.
He met Ms Smyth at Loughborough University, where he had worked for the last 13 years.
"Since the tragic accident the outpouring of grief and disbelief at his passing has been overwhelming," she said.
Mr Price had made the journey from his ex-wife Sharon's home in Oakham more than once a week for the last seven years, Ms Smyth said.
On Christmas Day he had gone to see their 12-year-old daughter Charlotte open her presents.
The crash happened at Cold Overton near Langham at 08:50 GMT, Leicestershire Police said.
Mr Price also leaves his mother Gill, 71, who lives in Leamington Spa, and father Derrick, 72, who lives in Great Barr, West Midlands.