Three killed in two Leicestershire crashes are named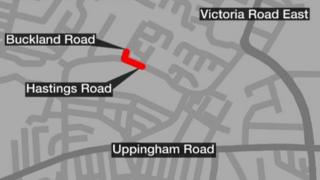 Three people who died at the weekend as a result of two separate road crashes, just minutes apart, have been named.
On Saturday evening, Andrew Griffiths, 32, of Kentish Town, London was hit by a car on the M1 motorway near junction 20, after getting out of a taxi parked on the hard shoulder.
Ammar Ingar, 21, and Muhammed-Abdullah Patel, 22, both from Leicester, were killed in a collision on Hastings Road, Leicester.
Police have appealed for witnesses.
The collision on the M1 occurred at about 19:50 GMT. No one else was injured.
The second crash, involving a Honda Civic and a Mitsubishi Shogun, happened at 20:25.
Two rear seat passengers in the Honda, both men, suffered serious injuries and are in hospital.
A man and a woman, travelling in the other car, were also injured. The man was later released from hospital but the woman is in a critical but stable condition.