Antoin Akpom murder: Killer loses right to appeal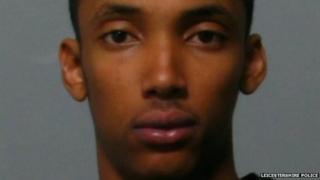 A man who stabbed and killed a football coach in a city street has lost the right to appeal against his conviction.
Hussain Hussain, 20, was jailed for life for the murder of Antoin Akpom, from Leicester, last year.
In June, Court of Appeal judges agreed the minimum 15-year jail term imposed on Hussain had been "unduly lenient" and increased it to 22 years.
Earlier, three senior judges at the same court rejected Hussain's claims he did not get a fair trial.
Hussain, of Stoneygate Road, Leicester, was found guilty last year of stabbing father-of-one Mr Akpom in September 2013.
The Court of Appeal heard a row broke out between Hussain, his victim and another man which resulted in a fight.
Mr Akpom ran off, returning a few minutes later with a dumbbell when he was knifed in the back by Hussain.
Throughout the trial, Hussain maintained he acted in self defence by picking up a blade dropped by somebody else, but the jury disagreed and he was convicted.
His lawyer Nigel Rumfitt QC said a witness should not have been allowed to give evidence anonymously and it was wrong to reveal his previous convictions to the jury.
But Lord Justice Pitchford, sitting with Mrs Justice Swift and Judge Paul Batty QC, said there was "no reasonable basis for challenging the anonymity order made by the judge".
He added: "We do not accept that the judge erred in identifying the issues for the jury when he decided to admit the [bad character] evidence or that he erred in explaining its relevance to the jury in the issue it had to determine."