Ebay honeymoon auction man 'Jilted John' suffers new setback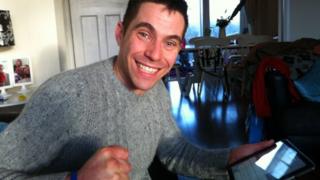 A man who auctioned his ex-fiancee's honeymoon place on eBay has suffered another setback as the highest bidder withdrew.
John Whitbread, 32, put the £1,800 trip to the Dominican Republic on eBay in the hope of finding a female companion.
But Mr Whitbread, from Leicestershire, got "suspicious" when the bidder failed to pay the winning sum of £8,000.
He is now pinning his hopes on the second highest bidder, who he says is willing to pay £7,900 for the holiday.
The auction, which attracted 105 bids, ended on Thursday morning.
Mr Whitbread, from Donisthorpe, said he had been "overwhelmed" by the response and would be donating most of the money raised to the testicular cancer charity Balls to Cancer.
After failed attempts to contact the highest bidder, he said the bidder later replied saying it had been "an accident".
The unlucky-in-love brick plant worker said: "I messaged [the bidder] a couple of times and waited to get the responses. They still hadn't paid, then in the evening I got a reply.
"They said it was a mistake and they don't really use eBay.
"It was a bit disheartening because of the amount of time I have put into it.
"The charity has been messed around, too. I have dedicated the best part of two weeks to get as much money for it as I can."
He said he had been in touch with the second highest bidder, who was still willing to pay £7,900.
"I have been up all night trying to sort this out," said Mr Whitbread.
"I'm hoping eBay can take the second bidder who still wants to carry on with it."
Mr Whitbread split from his fiancee six weeks before the wedding.
Bidding was only open to women because he said it "didn't really seem like a lads' holiday" and all his friends were "taken".
He said he would not find out who the woman was or publicly reveal her identity until she arrives at the airport on 16 February "to make it a bit more fun".