Petition calls for Catholic ceremony for Richard III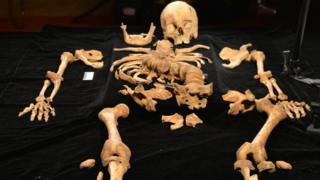 A petition calling for Richard III's bones to be taken to a Catholic chapel is to be handed to church leaders.
His remains have been stored at the University of Leicester since they were found under a city car park in 2012.
The 2,000-signature petition is asking the Archbishop of Westminster to press for their transfer before reinterment.
Leicester Cathedral and the local Catholic diocese said the decision to bury the king at the cathedral has the full support of the Catholic Church.
After being killed in battle in 1485, Richard gained a reputation for cruelty.
But supporters insist this is propaganda and he was in fact a pious Roman Catholic.
Since his skeleton was excavated, a row has developed about how it should be treated.
'Scientific specimen'
The Looking for Richard team said an early agreement between them and the university meant the king's bones should have been released to them.
Project leader Philippa Langley said: "It seems this former king and head of state is to be treated as a scientific specimen right up to and including the point at which he is laid in his coffin."
Dr John Ashdown-Hill, a historian who worked to identify the bones, said: "If the remains of identifiable individuals are uncovered in the future, will they be coffined as scientific specimens with no recognition of their beliefs and burial rites?"
Leicester Cathedral and the Catholic Diocese of Nottingham said in a joint statement the group's frustrations over the burial were "fundamentally misplaced" and a Mass for the king would be held as part of the reinterment ceremonies.
"There is no requirement in the Catholic tradition for prayers to be said at the coffining of human remains, including those of a monarch. The arrangements agreed between the university and the cathedral have the full support of the Catholic Church," the statement said.
It said there was "no legal credibility" to suggest the arrangement breached private agreements between the group and the university.
Richard is due to be reinterred in Leicester Cathedral on 26 March.