Euan Coulthard's family 'eternally grateful' to diver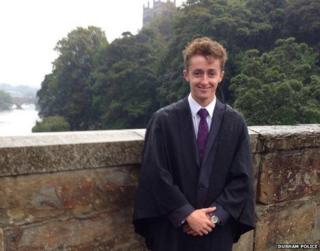 The family of a university student, whose body was found in the River Wear at Durham, said they would be "eternally grateful" to the diver who found him.
Euan Coulthard, from Bottesford in Leicestershire, disappeared after a night out in Durham on 14 January.
He was found on Friday by Trevor Bankhead, a volunteer diver who drove 170 miles from Scotland to help.
He said he wanted to help bring closure to the family.
Mr Coulthard's mother Hester, father Ross and 17-year-old sister Frances said in a statement: "We will be eternally grateful to the diver who located him and who, with support of the emergency services, brought him home to us."
They said Mr Coulthard was a "friendly, out-going and fun-loving young man who embraced university life and had a very bright future ahead of him".
"He was thoroughly enjoying his time at St Mary's College and had made many friends in his time there," the statement said.
"Losing Euan in the way we have has left us totally bereft and our lives will never be the same again.
"We would like to thank the college for the unwavering support it has given us during a prolonged period of sadness and uncertainty, and also Euan's friends who raised the alarm when he disappeared and joined in searches to find him."
Mr Coulthard's sister wrote on a Facebook page set up to help find the teenager: "The support has been truly overwhelming and we can't thank everyone enough."
Frank Hedley, head teacher of The King's School in Grantham, Lincolnshire, which Mr Coulthard attended, said: "Euan was an exceptional student who contributed richly to school life.
"Most importantly of all, he was a very fine human being with the qualities and values that The King's School holds dearest. He had integrity, he looked out for others and he seized every opportunity to do good things with his life."
A book of condolence has opened at the Guildhall Arts Centre in Grantham.
The town's mayor, Ian Selby, said: "Grantham hearts are saddened by the loss of Euan who was an active member in our community.
"He will be sadly missed and our thoughts and prayers are with his family and all of his friends during this difficult time."
Maria Estrella Corral-Hardy wrote on Facebook: "Wishing you peace to bring comfort, courage to face the days ahead and loving memories to forever hold Euan in your hearts."
Julia Northam wrote: "Euan has touched so many mothers' hearts, we all have prayed for him, we all have cried for him. Rest in peace Euan."
A candlelit vigil will also be held at his local church in Bottesford on Saturday.
Durham Police said it was satisfied there were no suspicious circumstances surrounding Mr Coulthard's death.
Details of a post-mortem examination have been sent to the coroner who is expected to open an inquest later this week.