Well-fall horse makes full recovery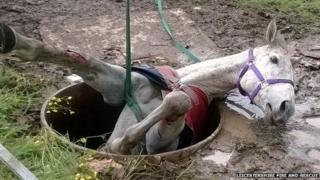 A student who spent £20,000 on care for her horse after it fell down a well says she "wasn't prepared to give up", despite advice to have it put down.
Foxy, a 12-year-old mare, had to be pulled to safety after getting stuck in a well in a field near Hinckley.
Her owner, Amy Badge, 20, said once Foxy survived the rescue, it was "never an option" to put her to sleep.
She said "any animal lover understands you'd do anything for your pet".
Fire crews rescued the horse after she fell through a sheet of timber covering a land well.
Ms Badge, a University of Bath economics student, spent her life savings and inheritance money on treatment.
She said her father, Mark, sold his motorcycle, along with garden furniture and a horse trailer to help out.
She added: "Despite being advised to have her put down, she's a strong animal and having survived the rescue we would never have given up because of the cost.
"She's a sweet, gentle and curious animal and will always be part of our family, injured or not."
Foxy spent eight weeks in intensive care at Rossdales Equine Hospital, Newmarket, after suffering a fracture on the back of her knee. She also developed heart and lung problems.
"Eight months later, and she is fully recovered, apart from a major leg wound which is healing slowly," Ms Badge said.