Mohammed Ashrafi victim was 'brainwashed'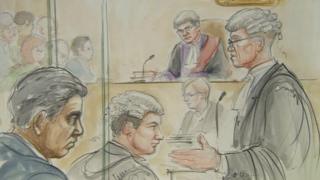 A woman handed over thousands of pounds in cash to a spiritual healer because she was "brainwashed" and blackmailed, a court heard.
Mohammed Ashrafi is accused of conning 18 people in Leicester by pretending to give winning lottery numbers.
One victim, who cannot be named, told Leicester Crown Court he also drugged her and threatened to publish humiliating photographs.
Mr Ashrafi denies 15 counts of fraud and one of blackmail.
Using the name Kamal-Ji, Mr Ashrafi first gained the woman's confidence when he predicted her nephew would return home after he disappeared.
The court heard she went to see him when her husband fell ill but he said he needed paying to continue his prayers to Indian spiritual master Sai Baba.
Speaking through an interpreter and behind a screen, the woman said she returned with her husband and they were told they could have winning lottery ticket numbers in return for cash.
On another occasion they were told to bring dough balls which were cooked in front of them.
When one was opened to reveal a Euromillions ticket, Mr Ashrafi said they would win if they paid him more money.
The woman told the court by then they had already given him thousands of pounds, but he would regularly ask for more, suggesting they took out a loan or remortgaged their home.
'A hopeless situation'
"We didn't have any money and my husband didn't want to give him any," she told the court.
"But I was so brainwashed and I believed in him. I said to my husband to sell some shares."
Later in the year, she returned on her own and was told to drink some water.
She awoke some time later with no memory to find the buttons on her shirt and trousers were undone and Mr Ashrafi standing in front of her.
Jurors were told a couple of days later Mr Ashrafi called demanding £50,000 to prevent him publishing pictures on the internet, which the couple said they paid by remortgaging their house.
Her husband told the trial it was the "toughest period" in their lives.
"It's a hopeless situation," he said. "My wife's distraught and wants to close this chapter. The only way she sees is by paying him and he's going to go away."
In cross-examination, Mr Ashrafi's lawyer suggested the couple were lying and the payments were much smaller than they suggested.
The trial, expected to last a month, continues.