Mohammed Ashrafi fraud trial: 'Shame' of faith healer believer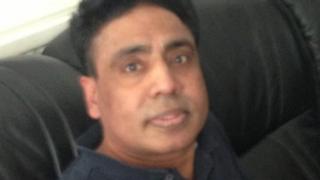 A man has told a court he feels "ashamed" at handing over £150,000 to a man he thought was a faith healer.
The witness, who cannot be named, told Leicester Crown Court he believed that he was being cured of an illness and would win millions in a lottery.
Mohammed Ashrafi is accused of conning 18 people in Leicester into handing over large sums of money with the promises of health and wealth.
The 50-year-old denies 15 counts of fraud and one of blackmail.
It is alleged that using the name Kamal-Ji, Mr Ashrafi claimed to be a devotee of Indian spiritual healer Sai Baba.
On the fourth day of the trial, the man described how he became "sucked in".
He said Mr Ashrafi gave the impression he had used magic to rid him of a black magic curse and once conned him into thinking he had heard the "voice of God".
He described later finding a Dictaphone that Mr Ashrafi had been using to play the messages.
"When he was doing this trick there was a voice coming from somewhere," said the man.
"I feel ashamed to say it now but I actually thought it was a voice coming from God.
"I was sucked in. That's how powerful this guy was."
Jurors were told Mr Ashrafi, an Indian national, promised his victim a £35m Euromillions Lottery win if he first paid 10% of that amount.
In total £150,000 in cash was handed to Mr Ashrafi.
The man said once he became suspicious he threatened to tell police and demanded some money back. Mr Ashrafi eventually returned £70,000 to him.
Video footage from a spy camera pen the man used in an attempt to gather evidence was shown in court, in which Mr Ashrafi talked about how much money had been given.
The trial, expected to last a month, continues.