Mohammed Ashrafi wanted to 'help poor and sick'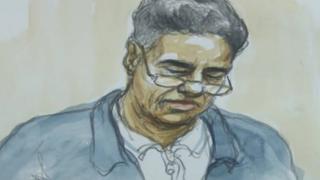 A self-proclaimed spiritual healer who is accused of tricking victims out of £650,000 has told a court he wanted to "help the poor and sick".
Mohammed Ashrafi is accused of conning 18 people in Leicester who had personal problems, illnesses or financial difficulties.
Leicester Crown Court heard he told his victims they would win a lottery draw if they gave him money.
Mr Ashrafi, 50, denies 15 counts of fraud and one of blackmail.
Giving evidence, Mr Ashrafi told the jury he was inspired to be a spiritual healer after a miracle in India.
He described how he had been shot and was unable to walk for four years until he was cured by a faith healer.
He later came to the UK to help people, he said.
The prosecution claims Mr Ashrafi, who worked from a house in Babingley Drive, Leicester, conned his victims by telling them he could communicate directly with Indian spiritual master Sai Baba.
The court was told how the defendant would cup his hand to his ear and reel off what he said were the winning numbers for the lottery.
Mr Ashrafi told the jury he categorically denied all of the charges, especially claims he used "elaborate confidence tricks" to convince people they would win the lottery.
He said he made between £2,000 to £3,000 a month, which he spent advertising his services.
He added he had never asked for money and people willingly offered donations.
However, the prosecution claims that Mr Ashrafi fled Leicester after telling his victims they would win the lottery on 28 March last year.
One victim handed over £100,000.
By the time they realised they had been conned he had left the city.
Mr Ashrafi said he left because he felt threatened.
The trial continues.