Oadby middle school changes 'opposed by more than 1,000'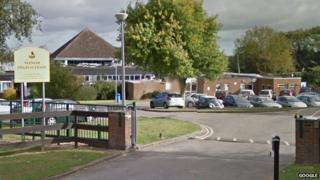 A petition opposing plans to scrap middle schools in a Leicestershire town received more than 1,000 signatures within a week of it being set up.
A consultation was launched on changing Gartree High and Manor High schools from ages 10-14 to 11-16 and Beauchamp College to an 11-18 entry system.
Parents opposed to the change said it would bring unnecessary disruption to their children's lives.
The schools in Oadby said it would improve education.
Pupils in the Leicester suburb currently leave primary school aged 10 and go to one of the three middle schools before changing again at aged 14.
In its proposal, Manor High School said the changes would mean less disruption for children and improve results.
It said the move was timed to coincide with national changes to GCSEs to help prepare.
Carl Doughton, who has a child at feeder school Brocks Hill Primary School, said: "They are experimenting with a system that's already excellent, not just compared with schools in the county but schools in the country.
"Why mess with the system to change that?"
The BBC tried to contact the schools but all three failed to respond.
On its website, Manor High School said: "The existing 10-14 age range structure is now inconsistent with the predominant age range structures in Leicestershire and when measured against national statutory requirements.
"We want to move to the more conventional 11-16 age range for English schools. This is a model supported in recent statements by the Secretary of State for Education and subsequent policy structures which have been put in place by Leicestershire County Council."
Beauchamp College has previously said it is responding to the other proposals.
The consultation will run until 1 March before any proposals are taken to the government and Leicestershire County Council.