Leicester Silver Arcade half empty after £3m makeover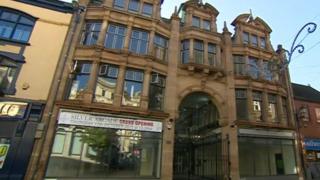 A Victorian shopping arcade is less than half full, 15 months after it reopened following a £3m makeover.
Natalie Powdrill, who has moved her hair salon out of the Silver Arcade in Leicester, said traders were "sold a dream" when they moved in.
She said not enough had been done to promote businesses and it needed a centre manager to deal with issues.
Estate agent Martin Herbert said "current retail conditions" were to blame.
Only eight out of 20 units in the arcade, which links Silver Street and Cank Street, are filled.
Ten units were occupied when the 19th-Century building reopened in October 2013.
'Nothing transpired'
Ms Powdrill broke a five-year lease to relocate Hair and Booty to another premises in the city centre.
"The building is beautiful and we absolutely fell in love with it," she said.
"The estate agent at the time sold us this amazing shopping experience. There were going to be big brand names downstairs, all independents from the first floor up.
"We were sold a dream basically and nothing transpired when we moved in."
Martin Herbert from agent Lambert Smith Hampton said tenants "were not promised anything that hasn't been delivered".
He said the landlord was "disappointed" with the footfall.
But he said businesses were "not willing" to contribute to the £30,000 a year needed to employ a manager for the centre.