Leicester City Council bosses 'warned over children's services'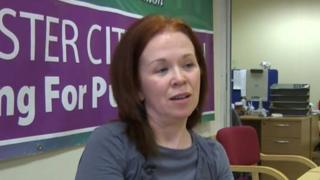 Children's services bosses were warned vulnerable youngsters were being put at risk because of severe understaffing, it has emerged.
More than 30 social workers quit after a council review into the department and led to 291 children in need of a social worker not being allocated one.
Unison said it had written letters of complaint to senior management warning changes were not working.
The city mayor said union officials did not raise concerns with him personally.
'Kicking themselves'
Janet McKenna, from Unison, said: "We raised concerns about the number of unallocated cases, the number of vacancies, the lack of training, about the number of hours staff were putting in over and above contracted hours in order to stay afloat."
A letter signed by 13 social workers was sent to senior managers last summer criticising the department's reorganisation which had left morale low and staff fearing redundancy.
Sir Peter Soulsby, the city's mayor, who described the review which led to staff departures as "botched", said he was not told what was happening.
He said: "They [Unison] must be kicking themselves that they never actually raised this in any consultation meetings, the face to face discussions that we had."
He also blamed a breakdown in communication from his senior management team.
Sir Peter also said the former head of department Elaine McHale, who was sacked over the handling of the review, had been "highly recommended".
However, it has emerged she retired as family services director at Wakefield Council in October 2012, following four serious case reviews.
One involved a boy being murdered by his father.
Sir Peter said: "Given the nature of social work there are few at a senior level who have not been involved at some level in an organisation that has had some sort of troubled past."
Attempts to contact Ms McHale have been made by the BBC.
Assistant mayor Vi Dempster, the councillor who had overall responsibility for the department, stepped down on Monday.
An Ofsted report, due to be published next week, is expected to outline serious failings.