Leicester prison van escape 'unsophisticated'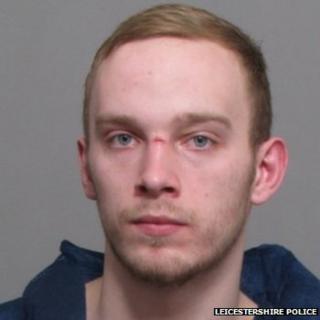 A man's escape from a secure prison van was "unsophisticated and unplanned", a court has heard.
Adam Herbert, "climbed out" of a GeoAmey security van while being transported to court on 26 December.
Despite an attempt by a member of the public to stop him he went on the run for two days and was re-arrested.
Herbert, 20, who previously pleaded guilty, was told by the judge he was still "young and malleable" and should use custody to "reflect and change".
Leicester Crown Court heard Herbert, of Speers Road, Leicester, was being taken from a police station to magistrates' court when he broke through a safety hatch in the van's roof.
'Reflect and change'
Prosecuting, Kate Plummer, said the driver had heard banging and when stopped at traffic lights in the city centre saw the defendant in his mirror running up the street.
"A member of the public tried to stop the defendant but he shoulder barged him and carried on running," she said.
The court heard Herbert, a father of one, had 99 previous offences and served his first custodial sentence at the age of 13.
Patrick Maggs, defending, called Herbert's escape "unsophisticated and unplanned" and said he "had spent a considerable amount of his young life in custody".
"You are still young and malleable and can change," said Judge Ebraham Mooncey.
"The time you have in front of you, you can reflect on how you want your life to unfold."
Herbert was sentenced to four months, plus three years and eight months for burglary offences he was in custody over when he escaped from the van.
His co-defendant Dempsey Lunn, 21, of Marriott Drive, Leicester, pleaded guilty to a burglary charge and was sentenced to two years and five months.
Earlier this week, a judge criticised security staff for presenting Herbert in a bright-coloured jumpsuit in the dock to prevent him from absconding again.