Mountsorrel residents' dust fears over quarry expansion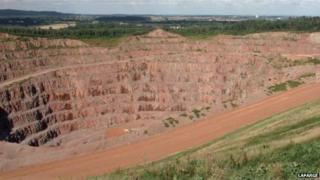 Villagers have said a decision to extend one of Europe's largest granite quarries will increase existing problems with noise and dust.
LaFarge Aggregates has been allowed to expand its 450-acre Mountsorrel quarry in Leicestershire by 20 acres.
After the plans were approved on Thursday, a county councillor said the decision would improve the quarry and reduce dust and noise.
LaFarge said the expansion would safeguard 149 jobs.
Campaigner Joan Davies said noise and dust had increased since she moved to Mountsorrel 38 years ago.
"We have to wash down our window ledges, it affects your car, you can see residue of dust on the path," she said.
"[The problem] is bound to go up now."
'Much better site'
Residents also claimed the expansion would threaten wildlife and nearby ancient woodland.
Ms Davies said she and other campaigners would continue to fight.
But Councillor Trevor Pendleton said the site would be improved because of the way the granite would be excavated and transferred.
"The prime crusher is to be relocated into the quarry itself and the stockpile is to be located there," he said.
"Rather than having it trucked out of the quarry, it's conveyer belted out. Traffic is less, noise is less and altogether it's a much better site from now on."
LaFarge said it would move its main crusher 45m underground and spray vehicles leaving the quarry.
"We are extremely pleased with the decision which will help to safeguard 149 jobs and continue to provide £10m a year to the local economy," a spokesman said.