Leicester's Belgrave Circle nears completion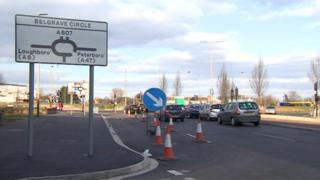 A £4m project to demolish a flyover in Leicester and remodel a major junction is nearing completion.
The final phase of work around Belgrave Circle was carried out over the weekend, with the road expected to fully re-open on Friday.
The works were initially expected to be complete by October, in time for the city's popular Diwali celebrations, but they overran by five months.
The city council said they had tried their hardest to "minimise disruption".
Head of highways at Leicester City Council, Martin Fletcher, said he was happy with the way the roadworks have been carried out.
Road layout change
"With all the recent overnight works, people have been accepting of it and appreciate that we are trying to minimise disruption by doing it at night," he said.
"It has gone smoothly and we have managed to keep the bus services going without disruption as well."
The flyover, which was built in the 1970s, was torn down in February 2014 and replaced with a grass-covered roundabout and walkway at the bottom of Belgrave Road.
Up to 80 new car parking spaces and new cycle lanes have also been created.
The scheme has been carried out by Leicester City Council and Sainsbury's, which closed their Belgrave Road store to redevelop it into industrial units and shops.
A spokesman for the supermarket said they were still looking at options for regenerating the site and would consult with residents on their plans later in the year.