Venue renamed Sue Townsend Theatre after author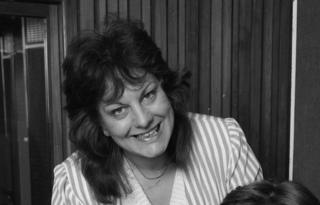 The venue where Adrian Mole author Sue Townsend started her literary career has been renamed in her honour.
She wrote her first play, Womberang, while at the Phoenix Theatre in Leicester, more recently known as Upper Brown Street.
Mrs Townsend's husband, Colin Broadway, said the late author would have been "embarrassed yet privately thrilled" about it being renamed in her honour.
The venue is now run by Leicester College.
Students from the college are performing Womberang as part of the official opening event from 16:00 GMT.
'Sue's seat'
Ian Mckeand, acting lecturer at Leicester College, said the name change would help students who would have a "prominent Leicester playwright will be at the forefront of their minds".
Sue's granddaughter, who is now at university, was a student at the college.
"Towards the end of her life Sue used to come to performances at the old Phoenix theatre and she enjoyed them," said Mr Mckeand.
"I shall always remember the seat she used to sit in and look down and think that's Sue's seat."
The author died at home in Leicester last April after having a stroke.
Mayor Peter Soulsby will unveil a plaque at the theatre at about 18:00 and the new sign will be lit up for the first time.
"Sue is, without doubt, one of finest writers the city has produced," he said.
A musical version of The Secret Diary of Adrian Mole Aged 13¾ opened as a tribute to the author at Leicester's Curve theatre earlier this month.
The writer worked on the musical before her death last April and her family gave their blessing to the production going ahead.