Leicestershire Fire Service cut crew sizes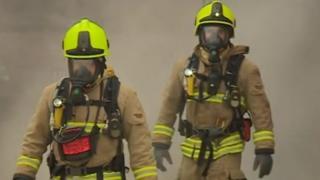 The size of fire crews in Leicestershire will be cut from five to four in a bid to save almost £650,000 a year from the fire authority budget.
The authority has voted to cut the crew size despite opposition from the Fire Brigades Union, which said the move will put lives at risk.
The fire service will also remove a second fire engine from Oakham to save £97,150 annually.
The remaining Oakham engine will have a crew of five.
'No compromise'
The fire authority has agreed to discuss the possibility of using £150,000 offered by Rutland County Council to introduce a new fast response team in Oakham.
The Leicestershire Fire Authority is aiming to cut a total of £7.5m from its budget.
The cutbacks will mean the loss of 17 full-time and 12 on-call firefighter posts.
Fire Brigades Union spokesman Graham Vaux said: "This is the most dangerous decision the authority has made to date.
"We are very concerned about redundancies as we may be the first fire service in the country to make compulsory redundancies.
"We have said all along that it is not safe and we are concerned about what will happen in the future.
"We believe public safety will be compromised if firefighters are forced to wait for other appliances to arrive."
Chief Fire Officer Dave Webb insisted the move would not compromise safety.
The service currently employs 400 firefighters who serve the county from 20 stations.