Bottesford cottage blaze investigators find body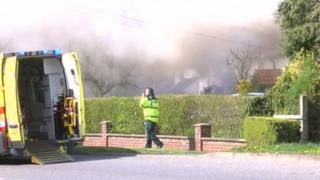 A body was found after a blaze broke out in a Leicestershire cottage.
The fire broke out at a row of cottages on Grantham Road in Bottesford at about 13:50 BST on Sunday.
Leicestershire Police confirmed one person had died and an investigation to determine the cause of death was ongoing.
Police and firefighters are investigating the cause of the fire. Nearby homes had to be evacuated during the incident on Sunday.
Maria Pride, who runs a cafe in the town, said: "One gentleman has clearly lost everything, so we have set up a focal point here for people to drop off clothes or furniture.
"We had (the affected residents) in here this morning and they were still very much in shock."