Bottesford fatal cottage blaze 'not suspicious'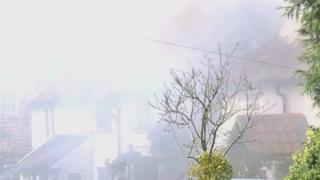 A fatal fire at a Leicestershire cottage is not being treated as suspicious, police have confirmed.
Emergency crews discovered a body at the scene of the blaze at a row of cottages on Grantham Road in Bottesford on Sunday afternoon.
A post-mortem examination was carried out on Monday but results have not yet been released.
A Leicestershire Police spokesperson said further inquiries were being carried out to identify the deceased.
Nearby homes had to be evacuated during the incident.