'Hideous' noise preceded fatal South Africa bus crash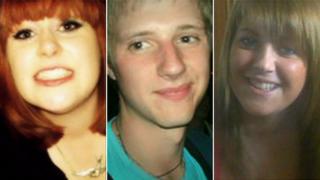 An inquest heard a bus which crashed in South Africa killing three British students was making a "hideous" noise after taking a shortcut.
The three students from Leicestershire were on a field trip in 2010 when their bus overturned near Nelspruit in the northeast province of Mpumalanga.
Witnesses described hearing a grating noise coming from the vehicle's brakes ahead of the crash.
Tour guide Trevor Dearlove said it was the windscreen wipers passengers heard.
Brooksby Melton College students Eleanor Payne and Samantha Lake, both 19, and Daniel Greenwood, 22, were killed when their tour bus overturned during a field trip from Swaziland to visit a chimpanzee sanctuary.
'Mountain shortcut'
An inquest at Loughborough Coroner's Court heard the bus, which was carrying 18 students and two teachers, along with the driver and guide, turned on its side on the edge of a sheer drop after the driver lost control.
It heard the "screeching" noise started after the Zimbabwean driver of the bus, Shingirayi Goto, took a shortcut up a mountain track.
One of the passengers, Amy Hands said: "It was a hideous noise but I remember them saying it was the the wipers.
"Jamie (Martin, a fellow student) said, 'That's not the wipers, that's the brakes'.
"It was a screeching sound and would have been consistent with when the driver was using the brakes."
Another passenger, Rachel Greaves told the hearing the shortcut Mr Goto took was "terrifying".
She said: "I remember my hands shaking. There was a sheer drop on either side at times."
Miss Greaves said she was the first person to escape from the overturned bus, followed moments later by Mr Goto.
"I saw this look of disbelief on his face. That look will stay with me for the rest of my life," she added.
'Fit state'
The inquest also heard passengers had not been given a safety briefing by the tour guide, but in a statement, Mr Dearlove, who is not attending the inquest, he said he had given a safety briefing at the start of the trip, including the wearing of seat belts.
It is believed none of the passengers were wearing a seat belt.
Mr Dearlove claimed he had "satisfied himself" the bus was in a fit state to be used on the tour, and added he had worked with the driver before and had no problem with his driving ability.
He also said he had been wearing his seat belt at the time of the crash and was "surprised" to hear none of the students were, when he and Mr Goto had repeatedly told them to.
The inquest continues.