Loughborough congestion fears over railway bridge work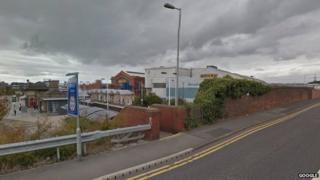 People living in Loughborough are concerned two railway bridge closures will generate more congestion around the town.
The Nottingham Road and Meadow Lane bridges will shut to traffic for several months each as part of plans to electrify the Midland Mainline route.
Love Loughborough, which promotes business in the town, said it would cause significant disruption.
Network Rail said it needed to prepare the line for new overhead cables.
'Complete disaster'
David Pagett-Wright, from Love Loughborough, said while work would not be carried out on the two bridges at the same time, it would still have a big impact for residents and businesses.
"If we had a choice then I would say the best time to do the work would be during the summer months.
"There's a considerable increase in traffic during term time," he said.
One man told BBC Radio Leicester: "It's going to be a complete disaster traffic wise.
"The traffic coming inbound can take up to 20-30 minutes, when they close it [Meadow Lane bridge], it's going to divert everything down Meadow Lane and it's going to be a mess."
Network Rail said the bridges had to be altered to give extra clearance while overhead cables were installed.
A spokesman said: "We will work with the relevant parties to ensure disruption during this time is kept to a minimum and will publicise the full details of the closure and diversionary routes well in advance."
He added that dates for the work had yet to be decided.