Leicester school issues alert after chat room comments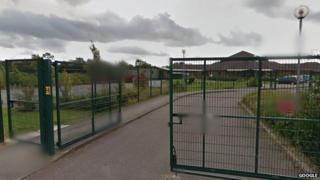 A Leicester primary school has issued an alert to parents after a pupil was sent "inappropriate" questions on a website aimed at children.
Kestrels' Field Primary School said a child refused to respond to comments in a private chat room on the Movie Star Planet site.
Head teacher Jo Higgins said the game has now been blocked.
Movie Star Planet said safety and protection of all children who use it was of paramount concern.
'Really scary'
Leicester City Council said concerns about inappropriate websites would be shared across the school network.
In a statement, it said: "E-Safety, keeping learners safe, and supporting learners in reporting any concerns is an important part of all schools safeguarding work."
One parent told BBC Radio Leicester: "I've got a nine-year-old who goes on that website. I found it really scary.
"I'm now closely monitoring the websites she's going on."
Movie Star Planet, which describes itself as a social online world, told the BBC it uses a number of online safeguarding methods to ensure the online community is a safe and suitable environment for children.
The site also has a section to reassure parents and teachers of its suitability.