Leicester Gypsies and travellers avoid 'big brother' site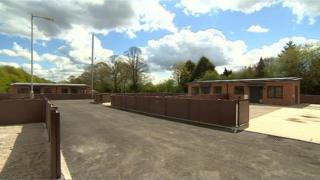 Travellers have refused to move into a purpose built site in Leicester until CCTV cameras are covered up.
The Red Hill Way site, which has room for 10 families, opened earlier in April but only one person has moved in.
Carlym Quantrill, who represents the Gypsy and traveller community, said potential residents had labelled it the "big brother site".
Leicester City Council said the cameras were focused on the area's gate and not on living spaces.
Ms Quantrill said: "Although the council are saying [CCTV cameras] are statically positioned at present, they all pick up an aspect of every plot on this site.
"The vast majority have refused [to move in] because they're now referring to this as the Big Brother site."
She said residents wanted the cameras hooded over for a three-month trial period but the council was refusing to budge.
About £2m, mostly from the government, has been spent on creating new traveller sites and refurbishing an existing 21-plot area at Meynell's Gorse.
The sites were given planning permission in 2013 despite 1,500 objections during a consultation.
The city council said, in a statement, it had assured the families the cameras would be focused on the gate, the access road and the CCTV equipment cabinet and not on private living spaces.