IPCC investigates police handling of Lord Janner complaints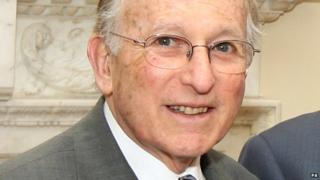 The police watchdog has confirmed it is investigating the way officers handled allegations of child abuse made against former Labour MP Lord Greville Janner.
The Independent Police Complaints Commission (IPCC) said it would look at how Leicestershire Police dealt with complaints made in 1991, 2001 and 2006.
The force referred itself to the IPCC over the matter in September 2014.
The Crown Prosecution Service said despite evidence to charge the former Leicester MP, he was unfit for trial.
Investigation 'welcomed'
Lord Janner, who has dementia, has been linked with a string of historic child sex abuse allegations during the 1960s, 1970s and 1980s.
In a statement, the IPCC said: "The IPCC investigation is in its early stages and terms of reference will be set in due course."
Leicestershire Police said it welcomed the decision for an independent investigation following its initial referral.
A spokesman for the force said no further comment would be made while investigations were ongoing.
The IPCC's decision follows Wednesday's announcement that a judge leading an independent inquiry into child sex abuse is to investigate claims made against the 86-year-old.
Justice Lowell Goddard, a New Zealand judge, who was appointed chairman of the inquiry by the Home Secretary, could call Lord Janner to give evidence.