King Richard III reinterment painting exhibition opens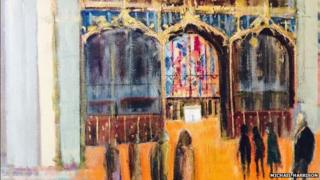 An art exhibition depicting the events of King Richard III's reinterment in Leicester has opened.
Michael Harrison was Leicester Cathedral's artist in residence during the ceremonies and has produced a series of oil paintings to reflect the occasion.
The Sanctuary for a King exhibition, can be seen at the Cank Street Gallery.
The first painting in the series, of the same name, will be sold in a silent auction with proceeds being donated to Leicester Cathedral.
Mr Harrison said: "It was a great privilege to be present at this unique historical moment.
"The discovery of Richard's remains has captured the imagination of the country and for me, to be able to record the events surrounding his reinterment, is an honour."
The remains of King Richard III were reinterred in March with a parade through the city and several ceremonies at Leicester Cathedral, over a week, to mark the occasion.
During that week, more than 20,000 people queued for up to four hours to see the King's coffin lying in repose at the cathedral.
Mr Harrison attended art school in Uppingham, Leicestershire, followed by the Academie Julian, the former Post-Impressionist studio in Paris, in 1962.
His work has previously been accepted for the Royal Society of British Artists and New English Art Club annual exhibitions at the Mall Galleries.
He spent a week observing the ceremonies and people who came to view King Richard's coffin and a specially-built tomb which is now on permanent display in the cathedral.
"We seem to be in a digital society where everything is very instant," he said.
"With Sanctuary, I'm trying to get the mind to dwell on something for a while and produce something that one would look at for longer."
The exhibition is free and runs until 23 May.