Bradgate Park dog lead warning over deer attacks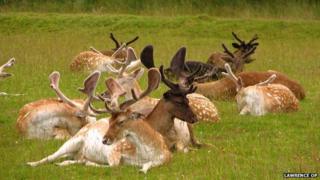 A surge in the number of deer killed by dogs in a Leicestershire park has prompted a warning owners could be forced to keep their pets on leads.
Up to 30 deer were lost to dogs at Bradgate Park during the winter, while five attacks were recorded during the May Day bank holiday weekend alone.
Officials said few deer were caught but many died of stress.
They said a lead-only rule was "the last thing we want" but the welfare of deer must come first.
Bradgate Park, between Leicester and Loughborough, is a 850 acre (340 ha) area made up of a former stately home's estate and ancient woodland.
Police inquiry
It is run by a charity, Bradgate Park Trust, and attracts about 900,000 visitors a year.
An appeal in February brought a lull in attacks but the recent spate, when pregnant and young deer are common, has prompted the warning.
Land agent at Bradgate Park, Peter Tyldesley, said: "A dogs-on-lead policy is absolutely the last thing we want to do, we know it will penalise the vast majority of responsible dog owners.
"But if we feel we are not getting anywhere, if we feel people are not using a bit of common sense, if they are not prepared to take responsibility, we are sadly going to have to wield this very blunt instrument."
Mr Tyldesley also confirmed police were investigating the "aggressive" reaction of some dog owners when challenged.