Leicester Soar Island design vote open to the public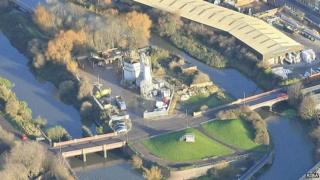 Leicester residents are being given the chance to vote for their favourite design for the new look of an island in the middle of the River Soar.
Five proposals for the Soar Island project were unveiled by the city council in April.
The Royal Institute of British Architects (RIBA), organisers of the design competition, said the island should be an "attractive destination".
The designs are on show until 19:00 BST in Jubilee Square, Leicester.
The two-acre island is currently home to a cement batching factory.
Its new look will form part of the £26.5m Waterside project that will see housing, offices and leisure facilities being built in the area.
RIBA and the city council have whittled 81 entries down to a shortlist of five architects from London, Spain and Germany.
City mayor Peter Soulsby said: "This competition has captured the imagination of architects from across the world.
"The five shortlisted entries alone show the incredible range and variety of potential future uses for this unique part of Leicester's Waterside."
The winning entry will be announced in July.