Leicester hospital patient not told he had cancer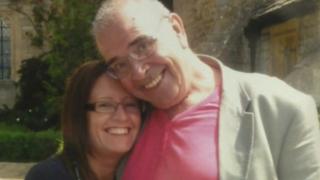 A patient only realised he had cancer when his daughter spotted the diagnosis on his medical notes after he was discharged from hospital.
George Thacker's family reported his treatment to the parliamentary ombudsmen after he died in Leicester Royal Infirmary aged 67.
In the "Dying without dignity" report, the case was described as "appalling".
The hospital trust in charge of his care said it was deeply sorry and accepted the findings of the report.
His daughter, Angie Winchester, said: "He was discharged and sent home... I just happened to look at the discharge note and it was clear there was a tumour or cancer present.
'Severely agitated'
She said: "It was just shock. We didn't want to believe it. Because he had been discharged by a registrar with no further action, we thought, or we hoped, he'd made a mistake."
Two months later Mr Thacker was admitted to hospital because he was struggling to breathe. The cancer had spread to his bones and brain.
His pain relief was stopped at one point because it was thought he was becoming too dependent on it.
His daughter said: "He had no pain relief and became severely agitated."
University Hospitals of Leicester NHS Trust accepted his family should not have found out about the diagnosis the way they did, and that Mr Thacker, who is referred to as Mr J in the report, should have received appropriate pain relief.
Rosie Bronnert, palliative medicine consultant at the trust, said: "We recognise this aspect of our service must improve and our staff must better understand the significant stress and impact communicating this news by a discharge letter causes."
Cancer Research UK has warned the NHS in England is failing "thousands" of cancer patients by treating them too slowly.