Carer keeps job after 'smoking' picture suspension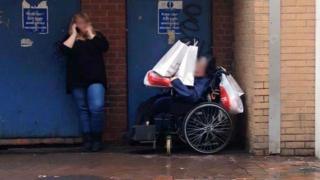 A carer who was suspended after she was pictured smoking next to a wheelchair user loaded with shopping bags has kept her job following a hearing.
Learning disability charity Mencap said the carer's conduct "fell well short" of expectations, but it did not warrant dismissal.
The brother of the man pictured with the carer said he asked to have his bags in front of him.
He called the picture "very misleading".
Updates on this story and more from Leicestershire
The photograph, believed to have been taken in Leicestershire, was shown to Mencap last month.
The charity subsequently suspended the carer.
After an internal investigation, a Mencap spokesman said the carer received "serious disciplinary action" following a hearing.
'Centre of storm'
Steve Baker, the charity's regional director of services, said: "The hearing concluded that while the conduct of our colleague fell well short of what we would expect in this instance, it did not warrant dismissal.
"Central to our decision were the statements and wishes of the person we support and his family."
The pictured man's brother, who is also his guardian, said it had been "very hard to be at the centre of this storm".
He added: "The photograph painted a very misleading picture of what was happening.
"On that day, they had been out shopping for some new clothes. He likes to be able to see his shopping and asked to have his bags in front of him."
The man added he was "glad" the carer had not been sacked.
The BBC has contacted the carer for comment.