Leicester strip club licence delay after meeting halted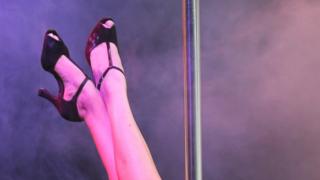 A decision whether to grant a "sexual entertainment venue" a licence has been delayed after a councillor withdrew from a meeting about the application.
A Leicester City Council committee were due to consider the licence for Lily's Lounge, in New Bond Street, on Tuesday.
However, the committee's chairman John Thomas said "he could not hear the application fairly" but the reason why has not been disclosed.
Three other members also retired and a new sub-committee will be arranged.
'Menance'
Lily's Lounge would be located below the Premier School of Dance, used by children, and near to a catholic shop and the Highcross shopping centre.
A number of letters were sent to the council objecting to the venue, including one that complained "naked people" had already been spotted in the building.
The Militia Immaculatae Trust, which runs the catholic shop, said the premises would attract "those in society who could be a nuisance or menace to others".
A council spokeswoman said: "Councillor John Thomas absented himself [from the meeting] as he believed he could not hear the application fairly.
"The remaining three members of the panel also felt they could not hear the application fairly because they had heard Mr Thomas's views earlier."
Judith Louise Berridge, manager of Lily's Lounge, stated in her application that "gentlemen's VIP dance" would take place on the premises.
Another hearing is to be arranged in the near future.