Friend tried to save Samuel Garner before hit-and-run near Leicester Prison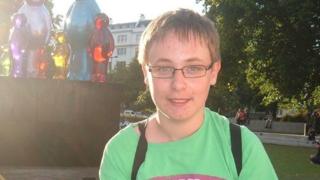 A friend of a teenager killed in a hit-and-run crash involving a stolen car said she tried to pull him away seconds before it struck.
Samuel Garner, 17, was hit in Welford Road outside Leicester Prison just after 23:00 BST on Sunday.
Nicola Cassidy, 16, said she attempted to "grab" Samuel when the black BMW 5 Series approached them.
The car was found burned out in Whetstone, but Leicestershire Police has yet to identify the driver.
Updates on this story and more from Leicestershire
Ms Cassidy said: "I saw the car and, as I tried to grab Sam, this car had gone over my feet and I had to let go of him, or it would have been both of us.
"As I let go that was it, just gone.
"Even if you argued with [Samuel] he'd just want to hug it out with you, he wouldn't fight with you. It hasn't hit me that he has gone."
Another friend, Kacper Nowakowski, said about Samuel: "You would always have a laugh with him, you cannot have a bad word about him.
"It's like a dream I'm going to wake up from."
Mr Garner's parents, Scott and Tracie Garner, said on Tuesday that their son was "perfect, loving and thoughtful".
They said he was due to turn 18 on Wednesday and the family were due to celebrate in Prague.
Det Sgt Mark Partridge from Leicestershire Police said the force is trying to trace the driver and wants to track the car's movements as it left the city.
Anyone with any information has been asked to contact the force.