Countesthorpe village ban for 'mayhem-causing' youths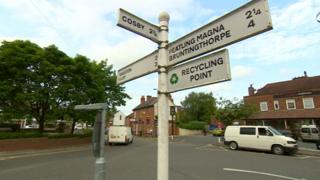 Children as young as 10 have been banned from gathering in groups of more than four in a Leicestershire village after a surge in reports of anti-social behaviour.
A public space protection order (PSPO) - for youths aged 10 to 17 - will operate in Countesthorpe for six months with a review after three months.
One youth told the BBC he and his friends went out to "cause mayhem".
The council and police will be able to prosecute youths who break the order.
One resident, who asked not to be named, said: "It was quite peaceful but now they all sit in gangs and make threats …the whole atmosphere is horrible."
Police powers
Applies to youngsters aged 10 to 17 in groups of four or more but does not apply where crowds are unavoidable such as waiting for school buses
The order prohibits "behaving in a way that is likely to cause harassment, alarm and distress"
Bans use of alcohol or "intoxicating substances including psychoactive substances"
Police and council officials will consider prosecution if any youths break the order
The order has been used in a Coventry park after concerns were raised over child sex grooming and the use of drugs and alcohol
The order will remain in place for six months, with a review after three
They claimed if residents approached the groups the youngsters would swear at them, but added "I don't think it [PSPO order] will make much difference at all".
Reports of anti-social behaviour reached 133 in the six-month period to April 2016, compared to 110 in the 12-month period ending in April 2015.
One youth said: "We were throwing stones at buses - at first we thought it was funny, just something to do. We didn't realise until after that it was bad."
Another said: "We got bored 'cause we had nothing to do, then we started making trouble."
The order means the only youths exempt from the PSPO would be those waiting for transport at bus stops and on school trips.
Leicestershire Police and Crime Commissioner, Willy Bach, said: "The idea is not to criminalise young kids, it is just to ensure during the summer months and beyond that these anti-social behaviour incidents cease and become less."