Network Rail staff 'started drilling moments before bridge collapse'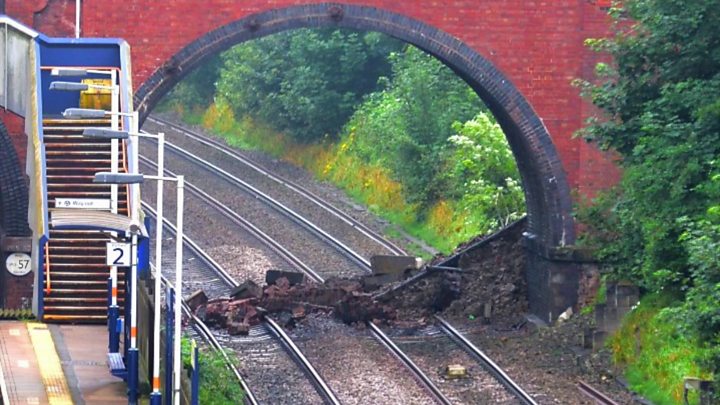 Workmen were seen drilling on a bridge moments before it collapsed on to a rail line causing travel chaos.
Trains between London and Nottingham, Derby and Leicester have been cancelled or delayed after the crossing crumbled at Barrow upon Soar in Leicestershire.
Eyewitnesses said contractors started work shortly before the bridge collapsed.
Network Rail said the bridge was being inspected but "no structural work" was under way.
Live updates: Rail chaos after bridge collapses
The organisation added it could be several days before repairs were completed.
East Midlands Trains said they are looking to run a "near normal" service on Wednesday, while Network Rail added it was "optimistic" a reduced train service could run.
Residents living close to the track said workmen began drilling on the bridge about 20 minutes after the last passenger train had passed.
Jake Walton, who lives nearby, said there were Network Rail employees on the bridge and a few minutes later "there was a sound like a massive earthquake...bricks and rubble came tumbling down...and the house shook.
"It was very nerve-wracking".
Other residents from the village, near Loughborough, said one side of the bridge had been sinking for several years and the crossing was due to be shut this week for repairs.
Cheryl Billson said: "There was very obviously need for work to repair the bridge for years...and local people have been reporting it.
"I rode over it yesterday on my horse - and now look at it."
A Network Rail spokesman said the bridge - which is in an area liable to subsidence - was closed at the time to allow for an inspection of "dips in the road".
"Our teams have been working on site since the early hours to make the bridge area safe and restore train services following the partial collapse," he added.
"A full investigation will take place into the cause of the collapse, but our priority is to return rail services as soon as possible."
Nick Sandham, head of communications at Network Rail, added repairs to the bridge have been carried out "on previous occasions".
He said the company was not expecting the collapse "from the work that was being done".
Journeys between London St Pancras, and Nottingham, Leicester and Derby - as well as the Leicester, Lincoln, Grimsby routes - are all affected.
East Midlands Trains said the closure of the line would affect all its services north of Leicester including to and from Chesterfield and Sheffield.
A limited number of trains will run between Leicester and London St Pancras, stopping in Northamptonshire, but they will be subject to last minute changes, the company said.
Commuters - particularly those travelling from Loughborough, Barrow upon Soar, Syston and Sileby - have been advised to check before travelling on Wednesday.
'One side disappeared'
A commuter, who uses Barrow upon Soar station every day, said he walked across the bridge on Monday.
"It was subsiding on one side and the wall was cracking and we assumed that's why they were having the repairs done," he said.
BBC reporter Helen McCarthy, who was at the scene, said: "One side of the bridge has disappeared completely and the road has subsided on one side."
One commuter, who travels regularly from Leicester to Nottingham, said: "Normally, it takes me about 25 minutes [to get to work] and it has taken me two hours so far… it is a tad frustrating.
"Not really much the train company can do about it... they have been wonderful actually, they have been really helpful."
A passenger who was travelling to Paris with his family said he was told he could get a refund but was not given any indication of when the line would reopen.
Alana Simpson wrote on Facebook: "These Victorian structures are coming to the end of their lives. Coupled with everything being run for profit by accountants and maintenance not being carried out, events like this will happen much more often."
Vanessa Burzynski, also on Facebook, said: "Its an extremely busy bridge & could've been so much worse! Used everyday by school children (my sons), students (my daughter), commuters (my husband) I was shocked at the state of it a few weeks ago - at least now it might be repaired properly instead of just patched up."
Severn Trent said a burst water main caused by the collapse had been repaired and the water supply to homes in the area restored.
---
Have you been affected by these travel disruptions?
Email your story to haveyoursay@bbc.co.uk and if you are happy to be contacted by a BBC journalist please include a telephone number.
You can also contact us in the following ways: