'Furious' man punches windscreen of moving car in Leicester rush hour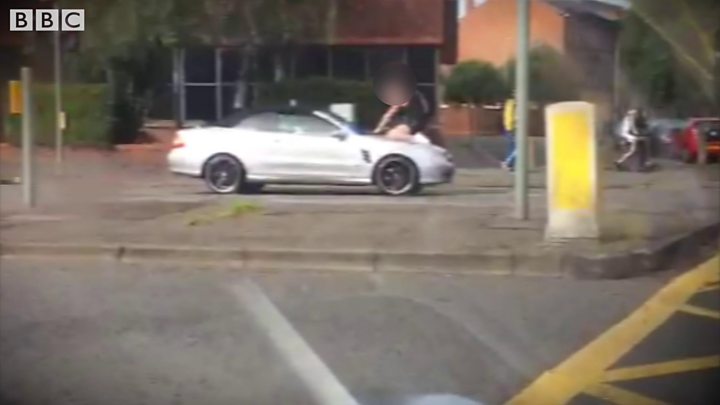 Dramatic footage has been filmed of a man jumping on a moving car and punching the windscreen in a rage.
The man can be seen jumping onto a car bonnet in Leicester city centre and shouting at the driver, before the driver continues to drive.
Onlookers said the man then jumped off and began punching other cars.
Leicestershire Police said a man had been arrested for criminal damage and assault, and was treated at hospital for his injuries.
The drama unfolded along Burleys Way, close to the junction with St Margaret's Way, at about 17:50 on Thursday.
BBC reporter Amy Woodfield, who recorded the footage as a passenger in another car, said: "I don't know what caused the drama. He was furious.
"He was possibly a pedestrian or running because he was in running gear.
"He started approaching other cars as well and I started to get a bit scared that he might jump on our car.
"You could see the blood dripping from his hand and knee and he was grinning as he was walking around."
The force said the arrested man remained in police custody.