Sam Boulton: Taxi 'car-dooring' death conviction upheld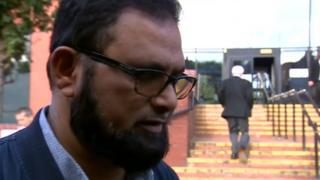 A taxi driver whose passenger caused a cyclist to be fatally injured has failed to get his conviction quashed.
Sam Boulton, 26, fell into traffic near Leicester station in July 2016 after Mandy Chapple opened the taxi door.
Farook Bhikhu denied permitting the opening of a vehicle door so as to injure or endanger a person, known as car-dooring, but was convicted in June.
At Leicester Crown Court Court, Bhikhu saw his appeal dismissed and his original £955 fine increased by £300.
Bhikhu, 56, of Wicklow Drive, Leicester, had parked on double yellow lines outside the station.
He had insisted he did not give permission for Chapple to open the door.
Chapple, 56, of Speers Road, Leicester, had earlier admitted accidentally hitting Mr Boulton with the door and was fined £80.
Jeff Boulton, father of Sam, said: "In July 2016 our family received a lifelong sentence, because Bhikhu parked irresponsibly to save a couple of minutes and took no responsibility for his passenger's actions.
"Despite Bhikhu's major role in the events leading to the death of my son, his refusal to see how his action resulted in the death of a wonderful and talented young man, is almost as upsetting as the way the law trivialises car-dooring."
Leicester City Council has since unveiled plans for a £2.9 million scheme to put "Dutch style" cycle lanes along the road where Mr Boulton died.
New off-road cycle lanes will be created - one inbound and one outbound - on either side of the road between Granby Street and Victoria Park.