King Power: Leicester City's owners will fight '£323m lawsuit'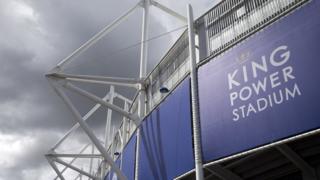 Leicester City Football Club's owners have said they "categorically deny" a report that they owe £323m to the Thai government.
On Monday a court in Bangkok was reported by Reuters news agency to be considering the merits of a lawsuit filed against King Power International.
However, the club and King Power say the allegations "have yet to be accepted".
They said they would "fight rigorously" any attempts to "discredit them".
The lawsuit accuses King Power of failing to pay the Thai government 14 billion baht (£323m) from the operation of a duty-free franchise it was awarded in 2006.
The case is also being brought against executives of state-owned Airports of Thailand, Reuters said.
A criminal court in Bangkok will now review the evidence next February, the news agency added.
'Fight rigorously'
But, Aiyawatt Srivaddhanaprabha, King Power chief executive and Leicester City vice-chairman, said the alleged charges "have yet to be accepted by the court".
"[The allegations] are categorically denied," he said.
"King Power has always followed and been absolutely committed to the highest standards in proper and ethical business practice.
"We are proud of our company's good name and honest reputation and will fight rigorously any attempts to discredit them".
The BBC has also contacted Airports of Thailand for a comment, but it is yet to respond.
---
Who is behind King Power?
Retail business King Power was founded by Vichai Srivaddhanaprabha in 1989
The company was awarded its Thai duty-free monopoly in 2006
Srivaddhanaprabha, who is worth an estimated $4.9bn, bought Leicester City in 2010
King Power also own Belgian club OH Leuven and have a controlling stake in the operator of AirAsia
Correction 16 November 2017: This report has been updated to make clear that the Bangkok court has not accepted the case but is considering whether it should be heard.
---