Megan Bannister trial: Drug death schoolgirl suppliers jailed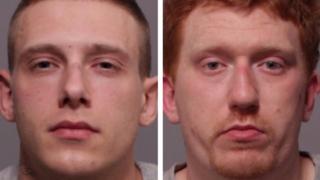 Two men have been jailed for supplying MDMA to a teenage girl who was found lifeless in the back of their car.
Jason Burder, 29, and Adam King, 28, were cleared of the gross negligence manslaughter of Megan Bannister.
Jurors heard how Megan, 16, was "out of it" in the car which later crashed in Leicestershire in May.
At Birmingham Crown Court on Wednesday, Burder was jailed for eight and a half years and King was sentenced to four and a half years.
More news from across the East Midlands
Megan's lifeless body was found lying in the back of a Vauxhall Astra after it was involved in a crash in Desford Road near Enderby on 14 May.
During the trial, the court heard how the men, both of Leicester, drove around buying beer and calling escorts while the teenager was left to die.
'Beautiful, loving and kind'
Megan Bannister came from a big family, having a twin brother and six other siblings.
Her parents, Carol and Tony Bannister, described her as a "beautiful, loving and kind daughter, sister and friend".
"Our bright, determined and popular daughter dreamt of being a midwife but her dream will never be realised as she died before her life really had a chance to begin," they said.
"Her compassion for others and energy for life meant she was loved dearly by everyone and our hearts have been truly broken by her death."
Her parents added that "the silence without our beloved daughter in our lives is deafening".
"We still walk into our house and hear Megan's laughter echoing around the rooms and for brief moments, we forget that she's not here."
Sentencing the men, Mrs Justice Jefford told Burder: "Rather than care for her [Megan] you dumped her in the back seat of your car and drove around with no concern for anyone other than yourself."
She described Burder's role as "far more serious", as it was he who then filmed her "suffering the effects of the drug on Snapchat".
Mrs Justice Jefford added: "You videoed her, shared images of her when she was clearly not in control.
"You laughed at her and made unkind remarks about her."
The judge told both men: "However you did it, whether by stealth or persuasion you got her to take far more than either of you did and both of you knew what was going on.
"You were both taking advantage of her youth and inexperience."
The judge described the men as "inexplicably callous" and said that when onlookers came across the crash, the pair didn't even mention that Megan was in the car.
Megan suffered no fatal injuries in the collision but two potential causes of her death were strangulation or a drug overdose, the jury were told.
However, Mrs Justice Jefford told jurors they could not be sure that failing to seek medical help had caused Megan's death.
The judge instructed the jury to acquit both defendants of the gross negligence manslaughter of Megan on Tuesday.
Burder, of Braunstone Avenue, then pleaded guilty to supplying Megan with MDMA, being in possession of MDMA on the day of her death, supplying a woman with cocaine and MDMA four months before, and careless driving.
King, of Waltham Avenue, pleaded guilty to being concerned in the supply of MDMA to Megan on the day of her death.