Dead woman 'joked about husband killing her' trial hears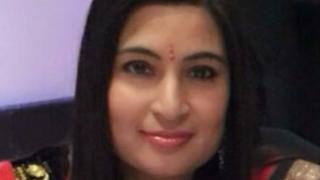 A week before she died a woman joked about her ex-husband killing her, a trial has heard.
The body of Kiran Daudia, 46, was found in a suitcase on 17 January 2017, in an alley close to her Leicester home.
Leicester Crown Court heard their son Shivam, 18, recall his mother laughing about her ex-husband and saying, "what if he ends up killing me?".
He also said 51-year-old Ashwin Daudia, who denies murder, physically and verbally abused his mother.
In video evidence played to the court, Shivam said he had seen his father taking a suitcase out of the attic of the family home shortly before his mother disappeared.
On the day she vanished, Ashwin had come and gone from the house about four times, Shivam said.
Taking the witness stand, he rejected defence suggestions Ashwin had been bullied by the rest of the family.
The trial continues.