Leicester shop explosion: Mary Ragoobar formally identified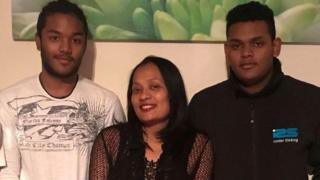 The fifth person killed in an explosion in Leicester has been formally identified.
Mary Ragoobar, 46, died along with her sons Shane Ragoobeer, 18, and Sean Ragoobeer, 17, in the blast in Hinckley Road on 25 February.
Shane's girlfriend Leah Reek, 18, and shop worker Viktorija Ijevleva, 22, also died in the explosion.
Inquests into all of their deaths will be opened at Leicester Coroners' Court on Thursday.
Mrs Ragoobar and her family lived in the two-storey flat above a Polish supermarket in Hinckley Road.
Her husband, Jose Ragoobeer, was working at the time of the explosion. Their youngest son survived and remains in hospital.
On Monday, Leicester Magistrates' Court was told the explosion was caused by petrol being spread through the shop.
Store owner Aram Kurd, 33, Hawkar Hassan, 32, and Arkan Ali, 37, have been charged with arson and manslaughter.
All were remanded in custody and will appear at Leicester Crown Court on 3 April via video link.
On Tuesday, a man in his 30s, from the East Midlands, was arrested on suspicion of manslaughter and remains in custody.
It followed the arrest of a man in his 40s, from East Anglia, who was held on suspicion of manslaughter. He has since been released under investigation.
Two other arrested men have also been released under investigation.