Leicestershire County Council wants branding off NHS reform plans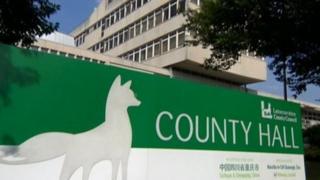 A county council wants its branding taken off local NHS publications outlining major health reform plans.
The NHS is publishing sustainability and transformation plans (STPs), which aim to reduce pressure on acute services and cut costs across England.
Leicestershire County Council said it had "serious concerns" about the lack of detail in the local plan.
The Conservative-led authority said it had invested £1.3m this year supporting the effort to join up patient services.
The county council said its chief executive wrote to the local NHS in December to say the authority would not want its name or logo on the publication of a further draft STP in 2018.
Byron Rhodes, deputy council leader, said: "We are worried about a lack of detail about proposals, the size of the financial gap and the plans to address it.
"There's no clarity about how all of this is being governed and the decision making across the partners."
He said the county council did not want to stop its collaboration with the NHS.
Leicester City Council and Rutland County Council said they shared the same concerns.
Councillor Adam Clarke, deputy city mayor and chair of Leicester's health and wellbeing board, said: "We can't endorse this plan when there is a serious risk it will just lead to cuts in beds and services because there isn't enough funding available to deliver the real changes needed."
Analysis: Tim Parker, BBC political reporter
Funding and management of the NHS can be really complicated.
But it seems our local councils are running out of patience in trying to understand it, when it comes to the STP for Leicester, Leicestershire and Rutland.
Councils say they want to help the NHS relieve pressure on acute services, improving social care as much as they can, which is the intention of the plan.
But they're now clearly worried that pouring in cash (over £1.3m from Leicestershire alone) and backing a plan that doesn't appear to them to be clearly managed or governed, is simply not acceptable.
And they're now willing to make that concern public.
NHS managers here have got to make their STP clearer and more accountable.
Responding to the point about the plan's lack of clarity, Toby Sanders, STP lead for Leicester, Leicestershire and Rutland, said partnership working was complex.
"Clearly we are committed to working with local councils and improving the way we do that and some of the comments made today will allow us focus on those areas."