Mourners gather for Leicester shop blast family's funeral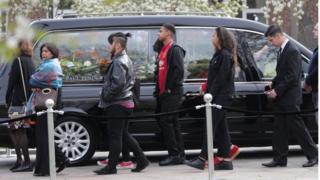 More than 600 mourners gathered at Leicester Cathedral to say farewell to a mother and her two sons who died in a shop explosion.
Mary Ragoobar and her sons Sean and Shane Ragoobeer died on 25 February after a blast on Hinckley Road.
Many mourners came in Liverpool and Manchester United shirts in tribute to the boys' favourite clubs.
Family members also travelled over from Mauritius for the service.
Earlier Jose Ragobeer, Mary's husband and father of Sean and Shane, told the BBC how he felt "powerless" when he saw the devastation caused by the explosion.
During the service Shannon Ragoobeer, Mary's niece, said her aunt was "a cheerful, fun-loving lady who was full of life".
"Her smile would always light up the room and it was infectious," she said.
"That made everyone around her happy, whether it was her funny jokes, her positive attitude or her big smile.
"She was a delight to be around."
The Very Reverend David Monteith told mourners the day of the explosion was a day like any other.
"The peace on that Hinckley Road, one of Leicester's most diverse and vibrant areas, was to be shattered and the lives of so many here today were to be changed forever," he said.
Relatives of Mary, Shane and Sean Ragoobeer also spoke during the funeral service, with one saying: "Our family and life will never be the same again."
Shane's headteacher spoke about how popular the pupil was and how he brought "happiness" to his friends.
He said the 18-year-old "adored" his girlfriend Leah Reek, who also died in the explosion two months ago.
After the funeral a cortege of 12 vehicles drove past the site of the explosion.
The procession then passed the English Martyrs' School, where Shane and Sean were pupils, before arriving at Gilroes Cemetery for a private service.
Inquests into the deaths of the five victims of the explosion have been opened and adjourned.
Aram Kurd, 33, Hawkar Hassan, 32, and Arkan Ali, 37, have been charged with arson and manslaughter.
They deny the charges and will appear at Leicester Crown Court in August.