East Midlands Ambulance Service asks for £20m to hit targets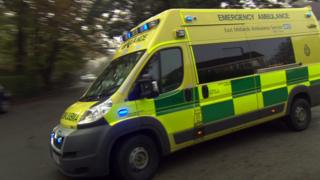 A troubled ambulance trust will meet with NHS bosses over its failure to hit targets for response times.
East Midlands Ambulance Service (EMAS) is reaching the most critically ill people in an average of nine minutes, two minutes short of its target.
It has asked local health commissioners for £20m a year, which would allow an extra 300 staff to be recruited but no agreement has yet been reached.
EMAS will meet with NHS England and NHS Improvement to discuss its plans.
In a Care Quality Commission report last year, inspectors said EMAS had made some "significant" improvements but continued to have problems with response times.
EMAS said one of the problems in meeting targets was hospital handover times, which meant it lost more than 6,000 12-hour shifts in the last year, across the region.
The trust said the extra funding would help the service hit its targets across Derbyshire, Leicestershire, Lincolnshire, Northamptonshire, Nottinghamshire and Rutland by September 2019.
EMAS also added it needed commitment from hospitals that ambulances would wait no longer than 15 minutes when handing over patients.
East Midlands Ambulance Service in numbers
Serves 4.8 million people
Covers an area of 6,452 sq miles
Receives an emergency call every 32 seconds
Employs more than 3,340 people in 90 locations
Has more than 580 emergency vehicles
Source: EMAS