Apology after blind woman 'left for two days' by carers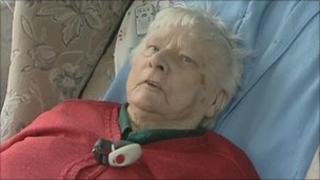 A care firm has apologised after an elderly blind woman was left alone for two days after her carers did not turn up to help her.
Violet Lockett, 85, who lives alone in Grantham, Lincolnshire was unable to wash and dress without helpers.
She said she needed four visits a day from carers, but the staff at Medico had let her down.
The care firm has apologised and said "our staff are working very hard to improve the quality of the services".
'Very distressing'
Mrs Lockett said the lack of care over the two days was "very distressing" and said she was very angry with the situation.
The 85-year-old has no family in the Grantham area and her only son lives in South Africa.
She told the BBC she was totally reliant on carers but was determined to stay in her home of 20 years.
She said it was like "living in a sewer" after two days without care.
Speaking about her carers, she said: "If they don't meet my standards they are no good to me. I am not prepared to let myself go just to please somebody else."
Medico spokesman Mark Rushton said its management team was "closely monitoring service delivery" and promised that "users will see a marked improvement in standards".
He said: "Standards of care had fallen below the levels we normally deliver and the standards the people who use our services expect".
Medico Nursing and Homecare has branches across the UK offering a range of care services to older people, disabled people and children.
Lincolnshire County Council spokeswoman Carolyn Kus said the problems seem to be limited to the Grantham area, adding: "Immediate action will be taken to ensure there is a quality and reliable service for all service users.
"We expect immediate improvement ... and if there is not improvement the council county will intervene and take further action."