Peregrine falcon found shot dead in Lincoln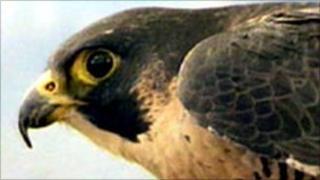 Police are investigating after a one-year-old peregrine falcon was found shot dead in Lincoln.
The falcon, which was killed by a shotgun wound, was recovered from Brayford Pool in the city.
It was unclear at first how the bird died, but post-mortem results have confirmed it was shot, Lincolnshire Police said.
Birds of prey are a protected species which means it is illegal to harm or kill them.
Anyone convicted of harming a falcon can be fined up to £5,000 and jailed for up to six months.
Royal Society for the Protection of Birds (RSPB) investigator Duncan McNiven said: "It's shocking that such a fantastic bird of prey has been gunned down like this not far from where hundreds of people have taken immense pleasure from watching them around Lincoln Cathedral."
Lincolnshire Police wildlife officer Nick Willey said: "It is unlikely that someone actually fired a shotgun in the Brayford Pool area so it could have been shot upstream and been carried by the current.
"The post-mortem has shown it was a female juvenile - less than a year old.
"We don't think that it is one of the birds from the cathedral but it is clear that this was a concerted effort to shoot and kill a rare and protected bird of prey which I find absolutely despicable."