Skegness Natureland releases 600th rescue seal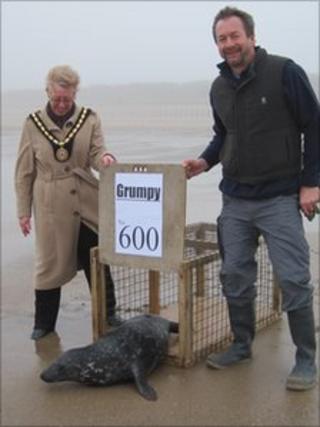 A Lincolnshire wildlife centre has released its 600th rescue seal back to the wild.
The harbour seal pup, named Grumpy, was found by staff from Skegness Natureland at Chapel Point when he was just three weeks old.
He was taken back to the centre and fed on a diet of herrings to help him gain weight.
Grumpy is now able to fend for himself and has been released close to a colony of wild seals.
Natureland's Duncan Yeadon said: "We have been rescuing both harbour and grey seals since 1965 and the numbers have increased to between 30 to 40 pups per year that would otherwise have died.
"It costs around £2,000 to care for each seal we rescue so we also do a lot of fundraising and rely on donations and income from entrance fees to our wildlife centre."