Life Savers help save 100 lives in Lincolnshire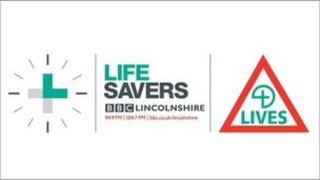 BBC Lincolnshire wants to recruit 400 new volunteer First Responders to help the Lincolnshire Intergrated Voluntary Emergency Service (LIVES).
LIVES estimates that setting up new services in the county could save at least 100 lives a year.
First Responders are based locally and can often arrive within three or four minutes of a 999 call being made.
They can then deliver vital care until the ambulance arrives, which can be the difference between life and death.
'Amazing opportunity'
Stephen Hyde, LIVES marketing and fundraising officer, said: "I am absolutely thrilled with the BBC's Life Savers campaign.
"Not only is it an amazing opportunity to tell people about the work of LIVES, but undoubtedly people will join us after listening and they will go on to save lives within their communities.
"A campaign such as Life Savers will mean more responders and more responders means more lives saved."
So far, Life Savers has received 122 applications from people who want to join and 29 people have now passed their training and have "gone live".
To find out more email: lifesavers@bbc.co.uk