City of Lincoln Council's green bin collections hope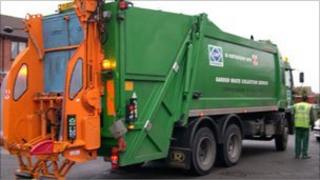 Households in Lincoln could benefit from green waste collections if further talks with the council's cleaning contractor are successful.
Only 27,000 households are currently offered green bin collections.
The council said if talks with Cory Environmental were successful it could provide a better service and save £1,606,500 over the next nine years.
It wants to combine two separate contracts with Cory and extend the deal until 2020.
The report has been passed through policy scrutiny committee, which is made up of cross-party councillors, and approved by the executive committee on Monday.
'Better deal'
The council is Conservative-run but has an equal number of Tory and Labour councillors.
As well as potentially saving £178,500 per year, there is also the possibility of receiving £250,000 to purchase new wheelie bins, the council said.
Council leader Darren Grice said a garden waste collection for everyone was something he had been fighting for.
"In these very tight financial times we want to try to drive as much value out of the deal as possible and for our partner Cory, it is very important for them to get an extension to their contract," he said.
"While we were negotiating over the green bins, we also managed to get some reduction in costs and through very hard negotiations, it looks like we should be able to save around £170,000 a year."
The service, if agreed, is expected to start this summer.